Despite being a giant, he is a friendly Dianne who hates fighting. Dianne is considered a deadly sinner who has been arranged as a member of The Seven Deadly Sins, a plot to overthrow the Lioness kingdom. On the other hand, Hauser, a Lioness Holy Knight, is from a commoner, but Hauser, who has a high level of magic and physical abilities, and even a high grade, has a strong sense of justice.
For the Holy Knight Hauser, whose role is to protect the Kingdom of Riones, Seven Deadly Sins are deadly sinners who have committed treason. The Holy Knight Hauser and Dianne met at the "Baizer Festival". The seven deadly sins came to the city in search of Dianne's treasure, Gideon. Meriodas, King, and Van went out to explore the city, while Dianne and Elizabeth went out into the forest near Weisel.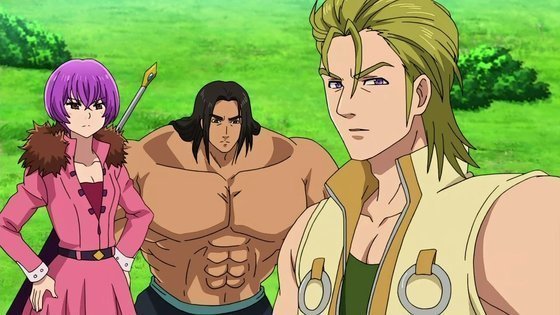 Hauser was strong in the battle against Dianne, but was attacked by falling from the air with Dianne's ability "heavy metal (heavy metal)" and Hauser was completely defeated. Talk to Dianne, who rushes, "I'm so grateful for the Seven Deadly Sins! I'm honored." This was how Hauser and Dianne met each other. Hauser, who was winked by Dianne after leaving the venue of the battle saying, "I'm really sorry," dyes his cheeks red.
Dianne, who is being arrested for overthrowing the Lioness kingdom, and Hauser, the holy knight who follows it, are usually hostile.
The two met strangely as opponents at the Weisel Fighting Festival, which concealed each other's identity.
So Hauser was overwhelmed by the strength of Dianne, but from that time on, Dianne seems to have become a concern for Hauser.
Dianne, who is crucial, doesn't notice Hauser at all, so he only likes Hauser?